DealNN.
Save a bunch of cash.
$20 off XFX GeForce 512MB 256-bit Video Card includes Call of Duty 4
Posted: 2723 days, 7 hours ago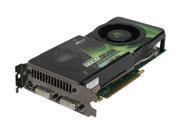 Newegg.com is offering the XFX GeForce 8800GTS 512MB 256-bit PCI Express HDCP Ready SLI supported video card (model no. PVT88GYDD4) for $249.99. The $20 mail in rebate knocks the price down to $229.99 and, while supplies last, it includes Call of Duty 4. Shipping is around $8, sales tax may apply depending on your location. Rebate expires 6/30/08.
Detailed Product Information
The XFX GeForce 8800GTS video card has 512MB memory clocked at 1944MHz with 256-bit interface and 2560 x 1600 resolution. It has 2 DVI ports, a HDTV S-Video out port, and a cooling fan. It is backed by Newegg.com's standard return policy of 30 days for a refund and one year for replacement.