DealNN.
Save a bunch of cash.
$20 off Western Digital 500GB External Hard Drive
Posted: 2720 days, 8 hours ago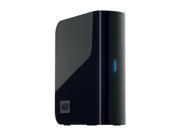 Detailed Product Information
The Western Digital My Book Essential features 500GB of portable storage for your files, videos or MP3s in a lightweight (2.5lbs.) book sized (6.5" x 5.4" x 2.1") casing. It is compatible with both Windows and Mac, a USB 2.0 or 1.1 port is required. This item is backed by a one year warranty from Western Digital.